Blocked Drains Abbotsford
Same-day service for Abbotsford blocked drains
Do you need urgent assistance with a blocked drain in Abbotsford? We understand how frustrating Abbotsford blocked drains can be - whether it's a blocked kitchen sink, a clogged toilet or a blocked shower. JAB Plumbing Solutions have been proudly servicing Abbotsford for over a decade. Our plumbers are fully licensed and use the latest drain cleaning technology on the market. Take a look at our customer reviews to see why our customers trust the experts at JAB Plumbing Solutions for professional drain cleaning and clog removal service in Abbotsford.
WHY CHOOSE US FOR Abbotsford blocked drainS?
UPFRONT PRICING
We give you the full price, upfront with no hidden fees
CLEAN AND TIDY
We respect your home and always leave it clean, safe and protected
QUALITY GUARANTEE
All our work is guaranteed and carried out to the highest standard
EMERGENCY RESPONSE
Our team is on call 24/7 to help with emergencies as soon as they arise
LICENSED EXPERTS
We are fully licensed to carry out work in the safest possible manner
ON TIME EVERY TIME
We know your time is valuable so we guarantee to arrive on time
Comprehensive BLOCKED drain SOLUTIONS Abbotsford
Our Abbotsford plumbers offer the full range of blocked drain cleaning solutions that can be tailored to the situation at hand. Simple blockages occurring above the s-trap may need nothing more than a plunge, while tougher blockages often require specialist equipment. Our goal is to get the job done quickly, economically and to the highest standard possible.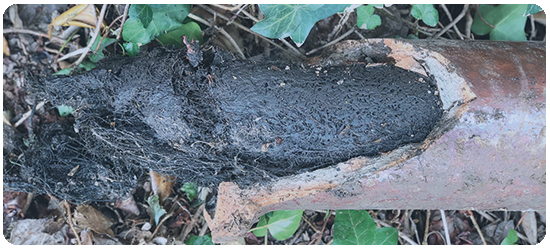 If the pipes are badly damaged or completely blocked by tree roots, there might be a need to excavate and replace any drains which are beyond the point of clearing. Our Abbotsford plumbers are qualified to do this in the safest and cleanest way.
Sewer and stormwater drains are located underneath the ground and can be difficult to find. Particularly when plumbing diagrams are out of date. Our Abbotsford plumbers use the best pipe location technology to ensure repairs are made with minimum disruption to your property.
WHAT leads to Abbotsford BLOCKED DRAINS?
FOOD SCRAPS
Rice, flour, pasta and other foods that swell can block kitchen sinks
HAIR
Hair is the most common cause of blocked shower drains
SANITARY ITEMS
Tampons, cotton balls and condoms cause blockages in the bathroom
WET WIPES
Wet wipes don't break down properly and lead to severe blocked drains
FATS, OIL AND GREASE
Grease congeals and sticks to the sides of pipes - building up over time
TREE ROOTS
Tree roots penetrate cracks in pipes and continue to grow inside
Stop Abbotsford blocked drains… for good!
Abbotsford blocked drains are normally preventable. As you can see from the causes above, blocked drains occur when foreign items make their way into the pipes. Installing drain grates around the home and keeping a bin next to the toilet is a fast and effective way of preventing clogged drains. Grease is also a big cause of blocked drains, so always wipe down greasy dishes with a paper towel before washing them.
OUR Abbotsford plumber can help with all your drainage
If you have a blocked toilet in Abbotsford that won't flush or constantly fills up with wastewater, we can help. Call 1800 225 552 today for fast and affordable Abbotsford toilet repairs.
Abbotsford blocked sewers are a nuisance for homeowners because they can disrupt multiple plumbing fixtures. Our Abbotsford plumbers can get the problem sorted for you fast, call 1800 225 552.
Blocked stormwater drains in Abbotsford are caused by debris, leaves and sediment build up in your lines. For stormwater drain cleaning call our Abbotsford plumber on 1800 225 552.
Leave a review
If you were happy with our Abbotsford blocked drain service we would love to hear from you. Our blocked drain experts are always looking for ways to exceed customer expectations and all feedback is appreciated. Simply click on your preferred platform below.