Blocked Toilets Sutherland Shire
Quality repairs for Sutherland Shire clogged toilets
Sutherland Shire blocked toilets are no match for our experienced drain plumbers. JAB Plumbing Solutions can unblock your Sutherland Shire toilet or sewer quickly before any nasty damage occurs to your property. Our licensed technicians are trained to to use the latest sewer cleaning equipment, including CCTV drain inspection cameras, pipe locators and high-pressured water jetting machine. Take a look at our latest reviews to see why Sutherland Shire businesses and homeowners trust JAB Plumbing Solutions for professional clogged toilet repairs.
You'll love working with our Sutherland Shire plumbers
UPFRONT PRICING
We give you the full price, upfront with no hidden fees
CLEAN AND TIDY
We respect your home and always leave it clean, safe and protected
QUALITY GUARANTEE
All our work is guaranteed and carried out to the highest standard
EMERGENCY RESPONSE
Our team is on call 24/7 to help with emergencies as soon as they arise
LICENSED EXPERTS
We are fully licensed to carry out work in the safest possible manner
ON TIME EVERY TIME
We know your time is valuable so we guarantee to arrive on time
Sutherland Shire Blocked toilet service areas
Allawah | Arncliffe | Banksia | Bardwell Park | Bardwell Valley | Beverley Park | Beverly Hills | Bexley | Bexley North | Blakehurst | Brighton Le Sands | Carss Park | Carlton | Connells Point | Dolls Point | Hurstville | Hurstville Grove | Kogarah | Kyeemagh | Kyle Bay | Lilli Pilli | Lugarno | Oatley | Peakhurst | Peakhurst Heights | Penshurst | Ramsgate | Rockdale | Sandringham | Sans Souci | South Hurstville | Turella | Wolli Creek |
Sutherland Shire blocked toilet repairs
Our Sutherland Shire plumbers are experts at removing toilet clogs and blockages, including those caused by tampons, wet-wipes or tree roots in the sewer line. When our plumbers arrive, they will thoroughly assess your drains to determine the location and cause of the clog. Based on this assessment we can recommend targeted solutions that address the issue at a foundational level so it doesn't come back.
Our high-pressured jet blasting machines can thoroughly clean your sewer pipes and restore your clogged toilet to full functionality. Our jet blasters remove virtually all traces of sediment from your Sutherland Shire blocked toilet. Our goal is to get your toilet working again as quickly as possible, so you can get back to enjoying your day.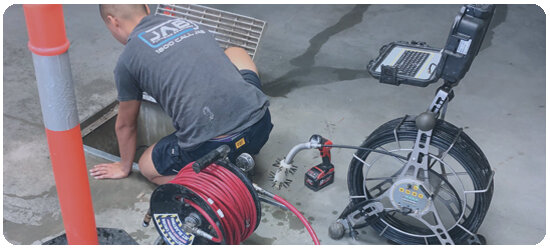 Our Sutherland Shire plumbers use drain cameras to assess the condition of underground pipes. They take the guesswork out of blocked toilets and allow us to see exactly what's causing the issues. Once the clog is cleared, we will send the camera back into the pipes to make sure the obstruction is gone for good.
What causes Sutherland Shire clogged toilets?
WET WIPES
Wet-wipes don't break down in water resulting in blockages
FEMALE HYGIENE
Pipes are not built to handle bulky items like pads and tampons
TOO MUCH TOILET PAPER
A single flush is not strong enough for excessive toilet paper
KIDS TOYS
It's not uncommon for children to flush toys down the toilet
SANITARY ITEMS
Cotton buds, wipes and condoms are not water-soluble
TREE ROOTS
Tree roots in the main sewer line will result in a clogged toilet
Preventing Sutherland Shire blocked toilets
Blocked toilets in your Sutherland Shire home or business are not inevitable. In fact, most are completely preventable. The most important thing to remember is that toilets and sewer systems were not designed to accomodate items such as sanitary pads, tampons, wet-wipes and cotton buds. These items don't break down in the same way as toilet paper. They become trapped in the pipes and build up over time, eventually leading to a clogged toilet. Keep a bin next to the toilet at all times and dispose of these items thoughtfully.
SEE WHAT OUR CUSTOMERS ARE SAYING